TNO – Robin Radar Systems: Making Airspace Safer
EARTO Innovation Awards 2021 – Impact Delivered Category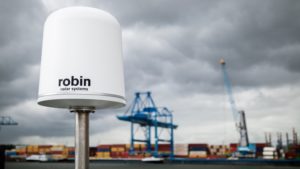 As well as needing to mitigate the serious hazard of bird strikes, airports and airfields face another formidable safety and security threat: drones. Each year drone numbers almost triple worldwide, resulting in a growing concern around their potential misuse. Drones present an evolving risk, as they become more accessible and their technology more advanced.
Innovation: TNO helped to develop IRIS®, a 3D drone detection radar, including antenna design and partial electronics. Robin Radar Systems thus combine hardware with future-proof software algorithms, ensuring IRIS® can accurately detect and classify small targets. Full 3D classification, 360-degrees azimuth coverage and a huge elevation coverage of 60-degrees gives the radar critical performance capabilities. It can even detect hovering drones.
Impact Delivered: Robin has become a European technology leader in radar tracking and classification of small objects. With more than 100 radars installed across the world – mainly in Europe but also in more remote locations such as Tasmania and Taiwan – Robin even has the potential to become a European export product. In 2020, Robin achieved a revenue of over €10M, thanks to the creation of avian radar MAX® and drone radar ELVIRA®. Robin caters for four unique markets: wind farms, civil aviation, military aviation and security.
More information about this innovation

TNO, an independent Dutch RTO, has some 3200 professionals who put their knowledge and experience to work in creating smart solutions to complex issues.