HELMHOLTZ – New solar tower technology is offering 24/7 sunshine
EARTO Innovation Awards 2019 – Impact Delivered Category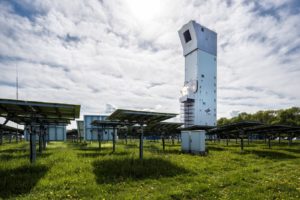 Industry is directly responsible for about 21% of global CO2 emissions and industrial energy demand for process heat is projected to grow another 40% by 2050. Only biomass was available as sustainable energy source until now, but it has limited availability. Renewable fuels like hydrogen or methanol based on renewable electricity are also under development but are still very costly.
Innovation:
DLR, EARTO Member through Helmholtz Association, developed a new receiver concept for solar tower power plants which uses black ceramic particles to absorb, transfer and store heat exceeding 1000°C. Air is heated by flowing through the particles in a direct contact heat exchanger. This hot air then provides the energy to the industrial process. The integrated storage can provide a 24/7 energy and from 5k to 7k full load hours can be achieved, depending on the annual solar radiation at the location.
Impact Delivered:
This technological development offers a new solution for 18% of the global CO2 emissions. It was demonstrated on the solar tower Jülich and performed at the DLR Institute of Solar Research with about €5M invested until now. About €17M are secured for further ongoing or starting projects with partners.
More information about this innovation

Helmholtz Association
is Germany's largest scientific organization. It represents 40,000 employees working in 19 research centres across Germany.
www.helmholtz.de