Fraunhofer – Wireless standard for massive IoT
EARTO Innovation Awards 2021 – Impact Delivered Category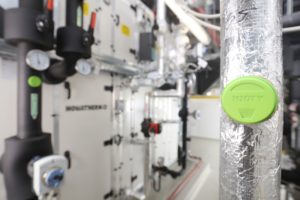 It is estimated that around 30 billion IoT devices will be needed to overcome the current lack of digitisation shortcomings. Conventional low-power wide-area network (LPWAN) technologies are not able to cope with this growing demand due to their low interference immunity, resulting in reduced scalability and suitability for large-scale deployments.
Innovation: EARTO Member Fraunhofer-Gesellschaft – and its Fraunhofer Institute for Integrated Circuits (IIS) developed the mioty®, a software-based LPWAN network protocol for a massive wireless IoT connectivity of thousands of sensors per base station. mioty®'s core relies on the Telegram Splitting Multiple Access (TSMA) method, where it packs data into smaller sub-packets for wireless transmission and reconstructs data packets after reception. It ensures high reliability through an optimised forward error protection for data packets.
Impact Delivered: mioty® reduces equipment, installation, and maintenance costs by 20 to 200 times compared to other technologies on the market. Patent and software licenses are available for use of mioty® in products such as sensor nodes or base stations. mioty's IoT market share is growing rapidly through an increasing number of mioty alliance members and its enhanced product portfolio. The key application markets for mioty® are Smart City, Industrial IoT and Smart Metering.
More information about this innovation


The Fraunhofer- Gesellschaft is a German RTO, which has a clearly defined mission of application-oriented research, with a focus on key technologies of relevance to the future.