Fraunhofer – Villages now go digital
EARTO Innovation Awards 2021 – Impact Delivered Category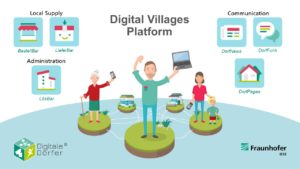 In Germany, the state of digitalisation in rural areas is unstable. The digital infrastructure is indeed lagging behind and the use of digital services, especially in public administrations, is not yet comparable to recent developments in the smart city sector. While the fields of action are similar as in urban settings (such as public services, mobility and local supply), the challenges are different and, therefore, smart city solutions cannot be easily transferred.
Innovation: EARTO Member Fraunhofer-Gesellschaft – Institute for Experimental Software Engineering (IESE) has developed the "Digital Villages Platform" which offers software services for the specific requirements of rural areas. The platform design follows a modular concept comprising 6 software services, which cover various fields of action and are interconnected through the platform, while operating independently.
Impact Delivered: The Digital Villages Platform has more than 65 contract partners, including states, municipalities and other organisations. Throughout Germany, the practical deployment of the platform can be expressed in particular by three communication services (DorfFunk, DorfNews, and DorfPages). Currently, there are more than 75,000 registered users on the platform overall. Thanks to this project, Fraunhofer IESE has received €9M in total.
More information about this innovation


The Fraunhofer- Gesellschaft is a German RTO, which has a clearly defined mission of application-oriented research, with a focus on key technologies of relevance to the future.