Łukasiewicz Research Network – Modular automation controller for smart switchgear
EARTO Innovation Awards 2021 – Impact Delivered Category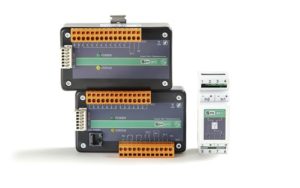 The ongoing trend in switchgear construction is to replace electromechanical relays, which are inherently failure prone and expensive to purchase and service. The lack of automated diagnostics of switchgear components necessitates direct trips of the service personnel, often to unspecified remote places of failure.
Innovation: EARTO Member Łukasiewicz Research Network developed a modular controller for ring switchgears to digitalise and simplify the switchgear construction. The core innovation relies on multi-protocol transmission capabilities reducing the number of copper connections in ring switchgears, which increases the functionality with fewer components. The controller's digital interfaces enable remote switchgear monitoring, control and field programmable logic functions implementation. They also results in increased personnel and equipment safety and fast reaction to equipment failure.
Impact Delivered: The technical solution was introduced to the market in 2018 and so far, the technology has been delivered to the company ZPUE. This modular controller reduces the maintenance services' time and costs as well as the number of components, connections, and wirings need to assemble the switchgear. Thanks to Łukasiewicz, the time for wiring, assembling, and testing the switchgear section has been reduced by 7%.
More information about this innovation
The Łukasiewicz Research Network is the third largest research network in Europe. It occupies 7,500 staff and has 33 research institutes located in 11 cities across Poland.