Fraunhofer – Making liver surgery safer
EARTO Innovation Awards 2018 – Impact Delivered Category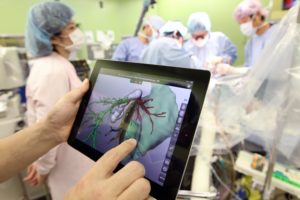 The gold standard for curative treatment of liver cancer, one of the most common cancers worldwide, is surgical removal of the tumour. However, the liver is one of the most demanding organs for surgeons, who have to take into account its four interwoven vascular systems, the tumour position and residual liver function when deciding whether, and exactly how, to operate. This complexity makes the surgery planning demanding.
Innovation: 
EARTO member Fraunhofer-Gesellschaft has developed software enabling risk analysis, procedure planning and residual liver function estimation. The MeVis LiverAnalyzer, which was supported by the EUROSTARS programme and the European Development Fund, is based on image-processing algorithms. These enable to quantify the risks of intervention and to generate 3D visualisations of the liver, tumour and vascular systems, helping to evaluate and optimise the surgical plan.
Impact delivered:
The innovation is now available to clinical users worldwide thanks to the close collaboration of Fraunhofer MEVIS and Siemens Healthineers. The software is supporting to increase the number of promising surgical interventions, since patients who were previously regarded as non-operable may now be treated. It also makes surgery safer for patients and helps to optimize surgical plans, in particular for complex cases where it changed up to 33% of initial plans according to clinical studies.
More information about this innovation
The Fraunhofer- Gesellschaft
is a German RTO, which has a clearly defined mission of application-oriented research, with a focus on key technologies of relevance to the future.
www.fraunhofer.de