VITO – A virtual ride down memory lane
EARTO Innovation Awards 2018 – Impact Delivered Category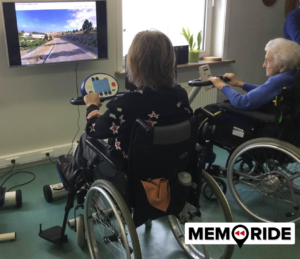 Europe's fast-growing ageing population represents a challenge for healthcare systems. New technologies and services are urgently sought to help elderly people exercise both their brains and bodies and maintain a good quality of life. The challenge is to make solutions effective and affordable and to ensure they meet the needs of elderly users rather than the assumptions of researchers.
Innovation: 
EARTO member VITO developed a low-cost solution combining cloud-based software with Google Streetview, a stationary exercise bike and a screen to allow elderly people to take a virtual ride down memory lane. Users can create their own personalised experiences, following familiar routes with emotional value or exploring new locations. Designed with nursing home residents and care professionals, Memoride enables users to exercise in a fun, motivating and safe environment regardless of physical or cognitive restrictions.
Impact delivered: 
Commercialised by Activ84Health, Memoride has been installed in over 80 nursing homes, rehabilitation centres and hospitals in seven countries, achieving revenue of €300,000 in 28 months. Feedback brings home the innovation's ability to unlock memories and encourage users to tell their stories. Memoride is now ready for global expansion and Activ84Health has set up distributor networks in three countries with plans for four more.
More information about this innovation

VITO
is a Belgium RTO in the areas of cleantech and sustainable development, elaborating solutions for the large societal challenges of today such as climate change, food security, resource scarcity, sustainable energy and health.
www.vito.be