Fraunhofer – Creating dynamic 3D models of real persons for virtual worlds
EARTO Innovation Awards 2019 – Impact Expected Category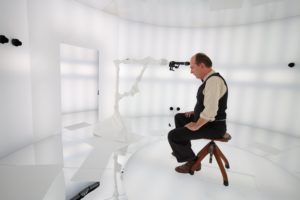 With the extremely rapid development of the Virtual Reality (VR) and Augmented Reality (AR) markets, creating a convincing 3D representation of persons will bring the field of media production to the next level. New technology developments with volumetric video enable to simultaneously capture real persons with multiple cameras and create naturally moving dynamic 3D models.
Innovation:
EARTO Member Fraunhofer-Gesellschaft developed an entire 3D Human Body reconstruction (3DHBR) studio with novel and unique capture and processing technology. High-quality video cameras with 20 MPixel resolution each enable the video-based processing of 3D information without the need for any additional active depth sensors.
Impact Expected:
This technology will further enrich the applications for the 3D representation of persons, embedding realistic movements with high authenticity and realism. Complex modelling and animation can therefore be avoided. The first 360-degree video test production started in 2017. The technology has been transferred to a commercial studio in 2018, supported by €1.5M public and private investments. The Volucap GmbH has been founded to start commercial production with Fraunhofer technology.
More information about this innovation


The Fraunhofer- Gesellschaft
is a German RTO, which has a clearly defined mission of application-oriented research, focusing on key technologies of relevance to the future.
www.fraunhofer.de