CSEM – Personalised skin on demand
EARTO Innovation Awards 2021 – Impact Expected Category
Third Prize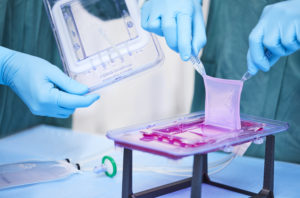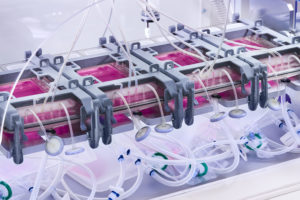 Burn injury is considered one of the most devastating injuries which can cause significant impact on the physical and psychological health of the victims. In 2014, around 11 million people worldwide required medical attention due to incidence of burns, out of which 4-11% are total body surface area burns. Severe burn patients have to manage possible physical limitations related to scarring, but also overcome substantial emotional as well as social challenges. The Swiss start-up CUTISS has the solution – bioengineered skin tissues produced from patient's own healthy cells. denovoSkin™ can replace the current methods of treatment, opening a new way of curing skin diseases and disfigurement. However, the current manufacturing process is manual, time-consuming, and costly – limiting the scale-up and adoption of this advanced therapeutic product. CSEM stepped in to develop a fully automated manufacturing process compatible with the requirements in terms of tissue engineering, safety, sterility and quality control.

Within 3 years' commercialisation, denovoSkin™ is expected to
treat 4,000 patients

denovoSkin™ is applied in only one surgical intervention

denovoSkin™ could cost minimum €28 per cm2

denovoSkin™ revenues will account for 50M CHF
First-in-class automated production of bioengineered skin grafts
The current activities in skin tissue engineering require large amounts of skin grafts in order to regenerate skin from wounds that cover more than 50% body surface areas. The manual processes of skin graft production are proven to be risky as well as inefficient and need to be automated. While there are several devices on the market for automated cell isolation and expansion, no fully automated solution has been found so far worldwide which could decentralise the tissue engineering production. More precisely, an automated process is facing several challenges due to sterility risks, including possible aseptic processing compliance and cross contamination.
Producing large quantity of skin can save a life, ameliorating scarring can change a life
EARTO member CSEM, together with CUTISS, created denovoCast, the first automated skin graft production platform, allowing to produce large area of personalised skin grafts – denovoSkinTM – from isolated, expanded cells in a secured, robust, efficient and automated manner. The core of the innovation is found in the denovoSkinTM graftbox, which can perform the whole process in a fully closed and aseptic environment. CSEM developed a complete process from concept, design of the graftbox, automation in the denovoCast system and biovalidation experiments, which can generate several skin grafts in parallel. A healthy skin biopsy sample is taken from the same patient's body and transplanted on the full-thickness wound. The resulting graft is composed of both epidermal and dermal layers and is expected to result in minimal scarring after transplantation, significantly improving quality of life.
Treating your skin is the next best thing
Protected by two patent applications on the graftbox and automated protocol, CSEM's denovoCast will allow CUTISS to scale-up and expand decentralised production while decreasing quality risks and opening new market opportunities for regenerative medicine. CUTISS aims to sell denovoSkin™ directly to hospitals and burn centres in the European Union which can carry out the surgeries for burn patients. The price of denovoSkin™ is envisaged at a minimum of €28 per cm2. Within 3 years of commercialisation, Thanks to CSEM technology, CUTISS expect to treat 4,000 patients, with a turnover of 50M CHF. The denovoSkin™ technology could be extended to other applications and skin market including reconstructive surgery, including scar or tumor removal, and chronic wound market.
The video of the innovation is available here.
More information about this innovation

CSEM is a Swiss private, non-profit research and technology organisation (RTO) with 35 years of Deep Tech development and transfer to industry. A bridge and catalyst for the transfer of technology and know-how between science and the economy, CSEM continually adapts its research focus to meet industry's needs. Today, CSEM supplies a broad range of markets – including medical, life sciences, automotive, machine and space – with an even broader range of technological solutions.
© Photos Credit: CSEM