CSEM – New treatments for Musculoskeletal Diseases under way
EARTO Innovation Awards 2020 – Impact Expected Category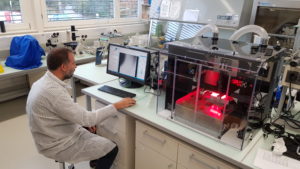 Musculoskeletal Diseases (MSD) affect people's everyday life in different ways and can result in many disability issues. MSD are the major contributor to mild discomfort, muscle loss or death in some extreme cases. As a result, there is an immense medical need for new treatments, therapies, and drugs. So far, the development of therapies has been limited due to the the lack of functional in-vitro models of skeletal muscle tissue.
Innovation:
Together with its partners, EARTO member CSEM developed the most reliable and simple screening platform for engineered muscle tissues. Based on a 3D bioprinting method, the skeletal muscle models mimic the contraction of muscle fibres when stimulated with an electrical field. In a nutshell, this innovative platform tests the new drugs for MSD by measuring the relative changes of contractility of the tissues when exposed to different compounds.
Impact Expected:
CSEM's breakthrough innovation could reduce the animal experiments' use by at least 50% and plastic waste by 40%. The industrialisation of this tool is expected by 2021. The sales of all platform's products could reach approximately €10M within the first five years. A future platform for cardiac muscle models is also planned to enter the market by 2023.
More information about this innovation

CSEM
is a Swiss private, non-profit research and technology organisation (RTO) with 35 years of Deep Tech development and transfer to industry. CSEM supplies a broad range of markets with an even broader range of technological solutions.
www.csem.ch