VTT – Renewable & recyclable bags made of wood fibre
EARTO Innovation Awards 2016 – Impact Expected Category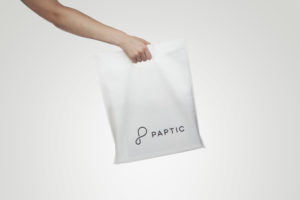 The era of plastics has lasted for decades, causing considerable stress on the environment with adverse impact on human health and food chains. To face this challenge, renewable and easily recyclable alternatives to plastics are needed, especially in short lifespan products like carrier bags and packaging. The EU targets a 55% reduction in plastic bags' use by 2019.
Innovation
: EARTO member VTT developed the Paptic bag. Made of a novel wood fibre based material, it combines the recyclability and renewability of paper with the resource efficiency and functionality of plastics. The patented Paptic technology can be 100% bio-based and its production process is more energy-efficient than that of kraft paper. Strong and pocketable Paptic bags can be re-used more than 10 times.
Impact Expected: 
Established in 2015 and based on a €10 million research portfolio, VTT's spin-off Paptic Ltd targets sales value of €60 million in 2018, equivalent to replace 1.5 billion plastic bags. Commercial market entry was done in June 2016 and discussions with over 20 European companies are ongoing. Very versatile, the Paptic material can be further developed in a multitude of plastic replacing applications.
More information about this innovation

VTT
Technical Research Centre of Finland Ltd is the leading multi-technological Research and Technology Organisation in the Nordic countries.
www.vtt.fi