TNO – Measuring the Nano World at High Speed
EARTO Innovation Awards 2017 – Impact Delivered Category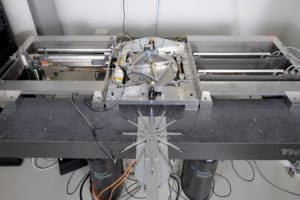 It is difficult to imagine the modern world without electronics. To achieve new functionalities, semiconductors will shrink to atomic scale dimensions, going below 10nm by 2018. In this context, the ability to accurately measure critical dimensions at atom scale has made Atomic Force Microscopy (AFM) an important research nano-instrument in several industrial applications. However, in most of the high-volume manufacturing applications, the single AFM is too slow to fulfill the industry needs in throughput and cost.
Innovation:
Addressing this industry gap, EARTO member TNO developed a revolutionary technology, using multiple and miniaturised AFMs in parallel to measure many spots at once. The very high speed of each individual AFM scan head allows the user to measure those spots with the size of tens of micrometers, in only a few seconds. This means a significant breakthrough in AFM throughput of up to 750 times of current commercial AFM systems.
Impact expected:
Building on this innovation the semiconductor equipment company Nearfield Instruments B.V. was established to develop, market and support metrology systems to the world-wide chip manufacturing companies. Not only will these systems further enable the development of even smaller, energy-efficient, capable chips but will also add to the strong position of Europe as the leading high-tech system supplier to the world.
EU funding:
Research was performed under the framework of the E450EDL project. TNO gratefully acknowledges funding by the ECSEL Joint Undertaking and the Netherlands Enterprise Agency (RVO).
More information about this innovation

TNO
, an independent Dutch RTO, has some 3000 professionals who put their knowledge and experience to work in creating smart solutions to complex issues.
www.tno.nl