TECNALIA – Industrial Chemicals Go Green
EARTO Innovation Awards 2017 – Impact Delivered Category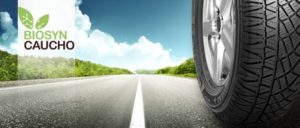 1,3-Butadiene (BD) is an important industrial chemical, crucial in the production of synthetic rubber. 70% of the more than 11 million tons per year worldwide butadiene production is used for manufacturing tyres. However, a BD shortage is expected because crackers are shifting from naphtha to lighter feedstocks in the ethylene manufacturing, making its price very volatile. The market is eager for reliable, competitive and sustainable solution to global BD supply.
Innovation:
EARTO member Tecnalia has developed a low carbon footprint patented technology to solve this scarcity issue by converting non-food lignocellulosic sugars into BD and valuable intermediates: acetoine, 2,3-nutanediol and methyl ethyl ketone, using a combination of fermentation, chemical and electrochemical technologies, together with economically feasible separation procedures.
Impact expected:
This innovative bio-chemical provides a way for a more stable market and prices for butadiene, and promotes the shift from Petro-economy to Bio-economy. To carry out the development phase of such technology, Tecnalia together with the equity fund company, Kereon, founded a new deep-tech spin off, Biosyncaucho SL. A pilot plant scale-up has already been operated and the business development process is covered by an EIT grant. The construction of a demonstration plant is scheduled at the end 2018.
EU funding
: H2020-SPIRE-2016, REHAP Project (proposal nº 723670): 118.554 € Grant & KIC Raw Materials Start-up Booster initiative (Project Agreement Nº 2016-BDS-4, made on 01/12/2016) for Biosyncaucho market assessment: 60,000 €
More information about this innovation

Tecnalia
is a Spanish RTO aiming to transform knowledge into GDP by creating business opportunities for companies through multidisciplinary and applied research, improving people's quality of life.
www.tecnalia.com