IPN – The new medicine for telemedicine
EARTO Innovation Awards 2020 – Impact Expected Category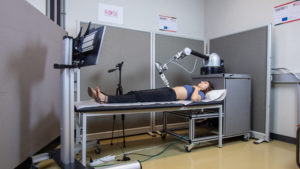 Diagnose imaging, like ultrasound, is required for accurately treating at least 25% of patients worldwide. However, not all healthcare providers have the adequate resources available. Robot-assisted diagnosis used as a telemedicine tool still lacks development and product-oriented solutions at a wider scale. The current medical robot systems for tele-ultrasound use methods that depend on physicians' skills and require a certain level of expertise to obtain a correct medical interpretation.
Innovation: EARTO Member Instituto Pedro Nunes (IPN) developed the ROSE solution (Robotic Sensing for Tele-Ecography), based on controlled lightweight robots and compliant telecontrol architectures. It combines state-of-the-art technological advances on both ultrasound and robotic systems which enable new user interfaces to operate efficiently for clinicians and patients. This dual system provides accurate diagnosis and helps detecting the development of chronic conditions in early stages.
Impact Expected: IPN's innovation is currently deployed in Portugal and aims to reach the market within 2 years. The demand for medical robot systems is growing and is expected to increase by 20% between 2019 – 2025. IPN's operation can generate revenues for hospitals, in a similar way that classical ultrasounds do, and can create new technological opportunities, entering new markets.
More information about this innovation

Instituto Pedro Nunes (IPN) is a private non-profit organisation that promotes innovation and technology  transfer, while connecting scientific and technological environment.