Fraunhofer – Inspecting the Micro World with 3D Holography
EARTO Innovation Awards 2017 – Impact Delivered Category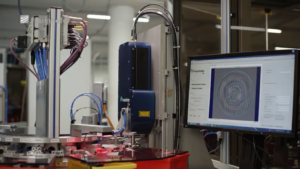 Precision and safety demands on machines and components are increasing, especially for high-tech industries such as aerospace, medical or automotive. Delivering a single faulty component can be very costly. However, 100% quality control of many important parameters is only feasible qualitatively. Precise, quantitative measurements are possible only for a small random sample. This is no longer sufficient for the very high demands of quality control for the digitalised production.
Innovation:
The holographic 3D inspection system HoloTop developed by EARTO member Fraunhofer is the first system worldwide to measure surface topographies with precision into the micrometer range, fast and reliably. It uses 3D sensor with digital holography for fully automatic inspection of technical components. HoloTop measures the topography of surfaces with sub-micron precision, featuring 100 million 3D measurement points per second, and automatically detecting tiny defects even on complex geometries.
Impact delivered:
The technology has been integrated into production at Werner Gießler, a supplier of precision turned parts to the automotive industry. It provides verifiable data on each single component produced and leads to more efficient production, reduces costs and boosting manufacturers' competitiveness. It is the first system to enable 100% quality control of low-cost, mass-produced parts at production speed.
More information about this innovation

Fraunhofer
is a German RTO, which has a clearly defined mission of application-oriented research, with a focus on key technologies of relevance to the future.
www.fraunhofer.de