UAR – How Robots Help Building Stronger and Lighter Planes & Cars
EARTO Innovation Awards 2017 – Impact Delivered Category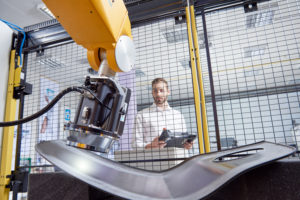 Carbon fibre reinforced plastic is increasingly used in the aerospace and the automotive industry for its strength-to-weight ratio, achieved by the very high resistance of carbon fibres. The fibres need to be exactly aligned to fit the strength needed on specific parts, and a deviation of only 5° may reduce the strength by 40%. Such sensitivity can lead to excessive safety factors, lowering the expected benefits. More accurate and automatic measurement systems are needed, and could also enable automated production processes.
Innovation:
Profactor, EARTO member through UAR, developed along with its partners an innovative sensor system combined with a robotic arm for automatically measuring fibre orientation on the whole surface of carbon fibre parts of complex geometry. The patented sensor's high speed allows automatic scanning with up to 1m/s, which is quick enough to enable industrial applicati ons of inline quality control in the automotive and aerospace industry.
Impact expected
: With this technology, industry can save ~€400k within three years after the implementation of the technology. On an Airbus A350, the improved production processes would allow a 20% reduction in weight, which in turn would save 64k tons of CO
2
per year per plane. First implementations of the robotic measurements in the aerospace have already been made within 1 year after the end of the R&D project.
EU funds:
7
th
framework Programme –  Call identifier: FP7-2013-NMP-ICT-FOF – THEME [FoF.NMP.2013-10] [Manufacturing processes for products made of composites or engineered metallic materials]
More information about this innovation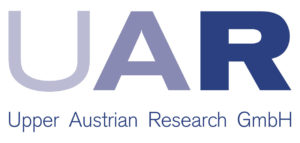 UAR
is an Austrian Association of RTOs promoting innovative solutions at the crossroads where fundamental research meets applied research and offering businesses access to high quality R&D.
www.uar.at

Profactor
is an applied research company with headquarters in Steyr and Vienna. PROFACTOR acts as an interface between science and business.
www.profactor.at
© Photos Credit: © PROFACTOR