Tyndall – Innovative gun for breast cancer diagnosis
EARTO Innovation Awards 2020 – Impact Expected Category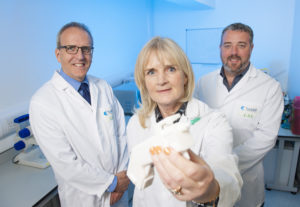 Breast cancer is one of the most common cancers in women. It is estimated that one in eight women will develop breast cancer during their lifetime. However, current clinical methods including mammography, ultrasound and breast biopsy, have not yet significantly reduced diagnosis time and cost, resulting in unnecessary pain for patients and significant economic cost to the healthcare system.
Innovation:EARTO Member Tyndall developed the SMARTProbe device, embedded with an advanced sensor system and software analytics engine to improve the existing breast cancer diagnostic pathway. This breakthrough innovation consists of an innovative, re-usable, hand-held biopsy gun and wireless display used with disposable biopsy needles. SMARTProbe identifies benign/cancerous tissue types at moment of biopsy, integrating into current clinical practice and digital patient records.
Impact Expected: Tyndall, together with the RPO and Cork University Hospital, developed this innovation to improve patients' psychological welfare and deliver a step-change reduction in healthcare costs in the pathology pathway from €500 to €60 per patient. With a clinical deployment partner in place, the initial target is 10% of the total market of €120M by 2030. SMARTProbe can be applied to cancer diagnostic methods for other organs, enabling expansion into additional significant diagnostic markets.
More information about this innovation

Tyndall National Institute is a leading European research centre in integrated ICT (Information and Communications Technology) materials, devices and systems.  Specialising in both electronics and photonics, Tyndall works with industry and academia to transform research into products in its core market areas.