TNO – Smartscan 3d: scanning & analyzing the structure of plants
EARTO Innovation Awards 2016 – Impact Delivered Category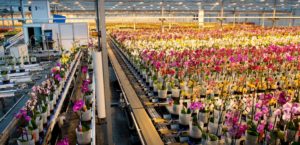 World trade of horticultural products amounts to €67.5 billion, but this sector is under pressure. To be more competitive, growers need a reliable quality measuring system, for instance in the orchid sector where parameters like the number of stems, buds and flowers determine orchids' sale prices. Existing methods are not accurate enough due to the obscuration of objects in 2D pictures or the lack of objectivity and capacity due to the human factor.
Innovation: 
EARTO member TNO and its partner WPS developed the SmartScan 3D, a breakthrough sensor technology automatically scanning and analysing the 3D structure and components of plants with great accuracy, enabling better plant classification based on features like height, volume or number of flowers.
Impact Delivered: 
This patent-protected technology enables growers to increase their revenues and to lower the costs of packaging, maintenance and energy consumption. Launched in 2015, the first system has already been sold by WPS and an investment breakeven is expected within 3 years. 15 to 25 units are expected to be sold in Europe over the next 5 years.
More information about this innovation

TNO
, an independent Research and Technology Organisation, has some 3000 professionals who put their knowledge and experience to work in creating smart solutions to complex issues.
www.tno.nl