Fraunhofer – Leather Tanning Gets Cleaner
EARTO Innovation Awards 2017 – Impact Expected Category
First Prize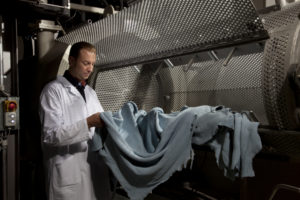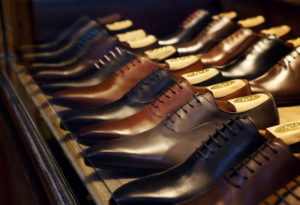 Leather is a high performance, high quality and natural material. It has unique properties, from high resilience, protection against water, the capacity to hold liquid from the inside or a high customer acceptance. The negative aspect of leather is its production, characterised by low efficiency regarding chemical usage. This is critical regarding sustainability, environmental friendly processing and cost efficiency. EARTO Member Fraunhofer developed the CLEANTAN process, making it possible to tan leather with compressed CO
2
, using chromium as tanning agent without having waste water. CLEANTAN is easy to integrate in running tanneries of small and large scale, and the return-on-investment can be realised within 2 years. 5 to 10 plants should be brought to the market by end 2018. Using the CLEANTAN technology can help save and even expand the tanning industry in Europe, for high quality leather production for shoes, automotive interiors, furniture and clothing, saving jobs and companies.

In europe
26,000 employees
are working in
1,600 tanneries
with a turnover of
€16bn 

The prototype plant will have a capacity of
10tn/batch
reaching a production volume of
16,500tn/year

Compared to conventional processing,
98% of chromium-contaminated waste water
can be saved,
reduction of process time by a factor 5

Return-on-invest within
1.5 to 2 years,
plan to bring
5 to 10 plants
in the market at the end of 2018
Making leather tanning environmentally friendly
In Europe, 26,000 employees work in 1,600 tanneries to produce 2,200km
2
of tanned leather every year with a turnover of €16bn. It is used in the shoe, the automotive, the furniture and the clothing industry. Over 90% of all leathers are produced by using 500,000tn chromium sulphate as tanning agent, which makes processing easy for a high-quality product. Regarding performance and price, chromium tanned leathers cannot be substituted in the near future. However, leather production process could be made more efficient and sustainable: a high amount of chemicals is lost in the waste water. There are ways to treat such waste water, but a more efficient solution would be to have no waste water at all.
Cleaner leather tanning process with high pressure
The main innovation of Fraunhofer's CLEANTAN process is the substitution of water by CO
2
at a minimum pressure of 30 bar. CLEANTAN is a combination of process innovations patented by Fraunhofer UMSICHT. To use just as much chromium as can be bound inside the skin, the water content of the skin itself is used to dissolve the tanning agent. The water is pressed out by conventional mechanical presses existing in every tannery worldwide. This processing and the special plant technology in lab, technical, and pre-industrial scale is worldwide unique. With its 1,700-litre volume and maximum pressure of 300 bar, the pre-industrial plant also enables a full carbon dioxide recycling.
From pilot to market
Compared to conventional processing, 200,000tn/year (40%) of chrome, 120,000tn/year (60%) of sulphate and 7bn litre/year (98%) of chromium contaminated waste water can be saved. Process time can also be reduced by a factor 5, from 15 to 3 hours. Fraunhofer gave exclusive license to a company using leather for consumer products, to build up and test a prototype plant and roll out the technology. The prototype will be built and operated in Europe by early 2018 with a production volume of 16.500 tons/year. The plant cost in series production is about €500,000 while the cost savings can reach €700,000/year per high pressure plant, for a return on invest in a period shorter than 2 years.
More information about this innovation

The Fraunhofer-Gesellschaft is a leading research and technology organisation. Its activities are conducted by 66 Fraunhofer Institutes and research units located throughout Europe. Fraunhofer employs a staff of around 24,000 who work with annual research budget totalling 2 billion euros, 70% being generated through collaborative research with industry and publicly funded research projects. www.fraunhofer.de
© Photos Credit: Fraunhofer UMSICHT ; Shutterstock