CIDETEC – Competitive and sustainable thermoset composites
EARTO Innovation Awards 2021 – Impact Expected Category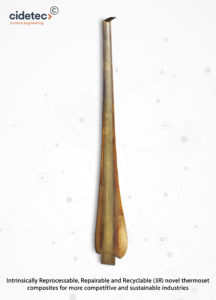 Fibre-reinforced polymer composites (FRPC) based on thermoset epoxy resins are widely used in many industrial sectors as an efficient alternative to metals. However, due to their thermosetting nature, epoxy composites also have some significant drawbacks: Once a thermoset composite is cured, it cannot be repaired, thermoformed or dissolved, hence, their recycling or repairing is extremely difficult arising serious environmental concerns.
Innovation: EARTO Member CIDETEC developed and patented the 3R Composites, a novel class of fibre-reinforced thermoset composites which enable a new generation of composites that preserve their high performance, while being fully recyclable, repairable and reprocessable. With the use of conventional thermoplastic compression moulding and thermoforming processes, 3R Composites allow faster and more automated production rates compared to conventional methods.
Impact Expected: Thanks to its unprecedent features, this innovation has benefitted from 4 Horizon 2020 projects. CIDETEC's composites can reduce manufacturing time from hours to minutes as well as reduce labour costs by 50%. CIDETEC expects that this 3R technology will reach the market by 2023, having a significant orders' value of €1M per year until 2025. It already had a €6M revenue during the last 5 years.
More information about this innovation

CIDETEC is an organisation for applied research that integrates three international reference institutes in the fields of energy storage, surface engineering and nanomedicine.