EARTO Members
Salzburg Research
Country: Austria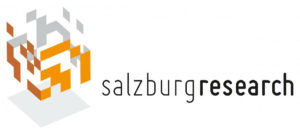 Founded in: 1996
EARTO Membership: Individual
www.salzburgresearch.at
Key Figures 2016

€4.6M Income

59 Employees

N/A Patent Applications

96 Industrial Partners

3 Spin-offs Created

5 H2020 Projects (eCorda March 2018)
Mission & Vision

Mission: Salzburg Research is an independent, innovation-driven research & technology organisation (RTO) in the area of information technologies (IT). The institute sees itself as a visionary thinktank, connecting networker and professional research partner.The different research groups provide consulting in technical IT and innovation issues and conduct research in national and international research programmes and on behalf of the industry.
With its research groups, competence centers, and competence fields, Salzburg Research covers a vast area of scientific expertise. Our strength lies in a successful interdisciplinary combination of different fields ranging from technological research and development to socio-economic strategy and market research and target-group specific coaching and communication measures.
Vision: Salzburg Research is your partner of choice in managing digital innovation challenges. We build software prototypes, conduct field studies, and evaluate technologies, etc. in order to support organizations in making better-informed decisions about their future digital business.
Technology Expertise
Natural Sciences: Computer and information sciences
Engineering & Technology: Electrical engineering, electronic engineering, information engineering
Social Sciences: Educational sciences
© Photos Credit: Salzburg