EARTO Innovation Prize Ceremony 2014
15 October 2014, BelVue Museum, Brussels –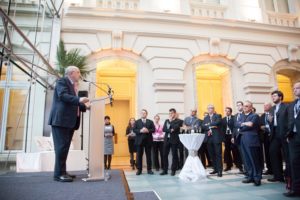 The 6th edition of the EARTO Innovation Prize was held on 16 October 2014 at the prestigious BelVue Museum, next to the Royal Palace. European Commissioner for Competition Joaquín Almunia, guest of honor and keynote speaker, highlighted during his speech the importance of investing in research and innovation as tools for competitiveness, growth and jobs. After his speech, Commissioner Almunia handed the prizes to the winners.
The first prize was awarded to TECNALIA Research & Innovation for BIOSIMIL, a computer vision based search engine that retrieves to clinicians biopsy images stored in biobanks worldwide by means of their visual clinical relevancy.
The second prize was given to SP Technial Research Institute of Sweden for GreenFeed, a fishmeal substitute for farmed fish made from wood-derived sugars rather than wild fish byproducts. As to the  third prize, it went to  Fraunhofer-Gesellschaft for IND²UCE, preventing disclosure of confidential information, identity theft and loss of reputation and so contributes to making the digital world safer.
Press coverage
SwissCore – EARTO wants focus on value-chain and delivering impact – 15 October 2014 – link

TECNALIA – TECNALIA wins the "Oscar" Innovation award for a Google Doctor – 15 October 2014 – link
TECNALIA – TECNALIA gana el "Óscar" a la Innovación por un Google Médico – 15 October – link
SP – SP Processum vann europeiskt innovationspris för protein till fiskfoder – link
SP – SP Processum awarded European innovation prize – link
Fraunhofer-Gesellschaft – EARTO prize for Fraunhofer – 15 October 2014 – link
Fraunhofer-Gesellschaft – Ausgezeichnete Sicherheit für Daten – 16 October 2014 – link
TUDOR – Présentation d'une success story du CRP Henri Tudor dans la brochure Impact Delivered – 17 October – link
TUDOR – Tudor congratulates EARTO Innovation Prize 2014 Winners! – 17 October – link
International Innovation – EARTO Innovation Prize 2014 – October – link
Phys.Org – Tecnalia wins 'Oscar' for innovation in 'Medical Google' – 16 October – link
The Fish Site – Fish Feed Protein Awarded European Innovation Prize – 27 October – link
BioBasque – TECNALIA has been awarded the EARTO Innovation Prize 2014 – 16 October 2014 – link
Black Capital – Tecnalia wins a European award for its search engine used to find biological samples – 16 October – link