EARTO Annual Conference 2011 in Warsaw, Poland
Delivering the Innovation Union: The Essential Contribution of RTOs
– 12-13 May 2011 in Warsaw, Poland –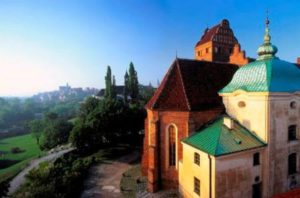 You can find some pictures from the Conference here 
Plenary Session – 9:00-12:30
Opening Plenary Session (Part One) 09:00-10:15
Welcome from EARTO, Erkki Leppävuori, President
Welcome from Technology Partners, Tomasz Kosmider, President
Keynote – Maria Orlowska, Secretary of State, Ministry of Science and Higher Education
The Polish Innovation System and the Role of RTOs – Zbigniew Smieszek, Vice-President, Main Council of R&D Units
Coffee Break: 10:15-10:45
Opening Plenary Session (Part Two) 10:45-12:30
Overview Presentation of the Innovation Union: Key Objectives, Mechanisms, Instruments – Christopher John Hull, Secretary General, EARTO
The Innovation Union: An Industry View – Jan van den Biesen, Vice-President Public R&D Programmes, Philips Research
Joint Programming: Current Status, Future Development – Christian Seiser, Deputy Director General, Federal Ministry for Science and Research, Vienna, Austria
The European Innovation Partnership on Active and Healthy Ageing – Marek Havrda, Policy Analyst, DG Health and Consumers, European Commission
The Common Strategic Framework as Challenge and Opportunity – Jerzy Langer, Foreign Secretary of Academia Europaea
Parallel Sessions – 13:30-17:00
Models and Perspectives for Strategic Cooperation among RTOs
Strategic cooperation among RTOs, nationally and transnationally, provides opportunities to share know-how and special facilities and to build and exploit complementary expertise. It can be a way for smaller RTOs to build scale and scope. This session is also a wrap-up conference if the EARTOs RTO ERA-NET project.
Moderator: Jens Neugebauer, Director for European Policy and Business Development, Fraunhofer-Gesellschaft
Conclusions from the AERTOs Project on Transnational Strategic Cooperation among RTOs – Jens Neugebauer, Director for European Policy and Business Development, Fraunhofer-Gesellschaft
The European Energy Research Alliance: a Model for RTO Cooperation to Support Joint Programming – Claude Ayache, Director of European Affairs, CEA
Progress Report on Cooperation among the French Carnot Institutes and International Cooperation – Alain Duprey, General Manager, AiCarnot
Beyond Borders – The Danish GTS Institutes in an International Perspective – Ragnar Heldt Nielsen, Director, GTS
New UK Programme to launch Technology and Innovation Centres – Peter Flinn, Technology and Innovation Centre Programme, UK Technology Strategy Board
Cooperation Among and With RTOs: Examples and Lessons from Poland
In this Parallel Session, we shall explore how RTOs can cooperate with each other and with industry. We shall learn from examples of cooperation within Poland and between partners in Poland and elsewhere; discuss the opportunities to finance projects using Polish funds; discuss the key factors for success in RTO cooperation, for example in the context of European Innovation Partnerships.
Moderator: Richard Granger, President Brussels Office, Technology Partners
Following the presentations, an opportunity to meet and discuss individually with the member RTOs of the Technology Partners Consortium
Innovation Union: from Research to Innovation
The conference plenary sessions will focus on some of the major architectural issues and programme features of the Commission's Innovation Union and Common Strategic Framework proposals. This session will give an opportunity to discuss some more specific aspects of particular interest to RTOs.
Moderator: John Hill, CEO, Pera
Which Financial Instruments to Ensure a Better Access to Finance for RDI in the EU? – Jean-David Malo, Head of Unit, DG Research and Innovation, European Commission
The European Standardisation System within the Innovation Union – Knut Blind, Berlin University of Technology & Fraunhofer Institute for Open Communication Systems FOKUS & Erasmus University
The Development of the Markets for Technologies – Jean-Claude Prager, Chief Economist Greater Paris Corporation, former Director of ADIT (Agency for the Diffusion of Technological Information)
Support to SMEs in the CSF – John Hill, CEO, Pera
From Research to Innovation: What Does it Mean for RTOs – the Case of Tecnalia – I

ñ

aki San Sebastian, Director General, Tecnalia
EARTO Executive Board Meeting 17:30-19:00
Conference Dinner 20:00 – Museum of John Paul II
EARTO Annual General Meeting (EARTO Members only) 8:30-9:30
Implementing the Innovation Union: The Essential Contribution of RTOs – Plenary Session – 9:45-13:30
Plenary Session (Part one) 9:45-11:15
Key Enabling Technologies: a Report from the European Commission High-Level Expert Group – Gabriel Crean, Scientific Director of the Division of Technological Research, CEA (Presentation will soon be available)
The New Partnership between Research and Technology Institutes and Industry – Ben Thuriaux-Alemán, Senior Consultant, Arthur D. Little
Panel discussion on Delivering the Innovation Union: Lessons from Practice, led by Richard L. Hudson, CEO and Editor, Science|Business, and featuring Gabriel Crean (CEA, France), Richard Granger (Technology Partners Consortium, Poland), Christian Seiser (Federal Ministry for Science and Research, Austria), Ben Thuriaux-Alemán (Arthur D. Little, United Kingdom), Cornelis-Mario Vis (Bureau of European Political Advisers to European Commission President Barroso)
Coffee break: 11:15-11:45
Plenary Session (Part two) 11:45-13:30
Keynote – Patricia Reilly, Member of the Private Office of Maire Geoghegan-Quinn, European Commissioner for Research, Innovation and Science
Innovative Poland – An Important Partner whithin the Innovation Union – Sylwia Wasniewska, Deputy Director, Economy Development Department, Ministry of Economy
Keynote – Krzysztof J. Kurzydlowski, Director, National Centre for Research and Development
Closing address – Erkki Leppävuori, President, EARTO
Announcement of 2012 Annual Conference
Buffet Lunch 13:30