24 / 09 / 2020
EC DG CLIMA launched a first call for Innovation Fund's large-scale projects
The European Commission (EC) DG CLIMA recently launched a first call for large-scale projects for its Innovation Fund, which is open until 29 October 2020. The Innovation Fund
delegated regulation
defines as 'large-scale' projects with capital expenditure above €7.5 million, and as
'small-scale'
 projects below this threshold.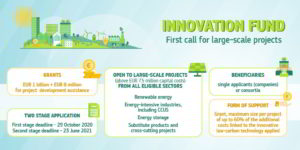 The
Innovation Fund
is one of the world's largest funding programmes for the demonstration of innovative low-carbon technologies and will be financed by revenues from the auctioning of allowances under the 
EU Emissions Trading System
and may amount to about €10 billion, depending on the carbon price. According to the EC, the Innovation Fund will:
help create the right financial incentives for projects to invest now in the next generation of technologies needed for the EU's low-carbon transition
boost growth and competitiveness by empowering EU companies with a first-mover advantage to become global technology leaders
support innovative low-carbon technologies in all Member States in taking off and reaching the market.
More information